'Community Service' Dating Sites*
Along with Community Passions (the site you are on now), any site(s) listed below focus on connecting singles with others who are also into community service. Each site, regardless of the company running it, shares many of the same characteristics as many of the other sites. So, if you are looking for a great dating site focused on caring singles, then browse below to see if you find a site of interest.
AD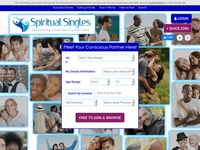 Spiritual Singles
Meet A Caring Partner Here!
Spiritual Singles is part of the 'Conscious Dating Network (CDN)'. CDN is the oldest, largest, exclusively "Spiritual/Conscious" and "Green/Eco-Friendly" network of online dating sites with almost 20 years experience. Spiritual Singles caters to singles who value
COMMUNITY
, Personal/Spiritual Growth, Living with an Open Heart, Conscious Loving Relationships, Meditation, Yoga, Raising the Collective Consciousness, Healing Mother Earth, Holistic Sustainable Living, Organic Non-GMO Food, Organic Gardening and Permaculture, Alternative News & Health, Personal Freedom & World Peace. In other words, this is THE site for caring singles.
AD
*Sites listed on this page are a combination of ads, affiliate related Sites and general non-partnership related sites that match the theme of Community Passions.